Začínajúc našou cestou, postupne sa ponárame do šiestich rôznych svetov, kde každý z nich hovorí svoj príbeh. Sú to miesta plné krásy, harmónie a pokoja, kde sa stretáva minulosť s budúcnosťou. V každej z týchto kójí sa zdá, že čas sa zastavil, aby sme si mohli vychutnať krásu nábytku, ktorý tu stojí pred nami.  Ako prvé sme navštívili talianského výrobcu PEDRALI.
Vchádzame do "haly hotela" a cítime, ako nás objíma jeho atmosféra. Sme uvítaní mäkkými sedačkami a dokonalou eleganciou, ktorá je charakteristická pre každý jeden detail. Potom pokračujeme von na terasu, kde sa stretáme s prirodzenou krásou, ktorú nám ponúka zeleň okolo nás. Sedáme si na nábytok a cítime, ako sa náš dych upokojuje. Tu sa nám otvárajú oči a my vidíme krásu okolo nás, ktorá nás obklopuje.
Vchádzame do miestnosti, kde cítime tú útulnú a príjemnú atmosféru, ktorá by sa dala prirovnať k prechádzke po záhrade. Tento priestor pripomína záhradné partie, kde sa môžeme oddýchnuť, relaxovať a zahrať si hry so svojimi blízkymi.
Pokračujeme ďalej a ocitáme sa v miestnosti, ktorá nám ponúka to pravé spojenie s prírodou. Tu sa vnímame ako súčasť, pretože vonkajší priestor sa spája s vnútorným prostredím a vytvára jeden celok. Cítime, ako nás obklopuje pohodlie a harmónia, ktorá nás upokojuje a navracia do stavu pokoja, aj ked sú okolo nás stovky ľudí.
Ďalej pokračujeme a nachádzame sa v priestore, kde sa miešajú interiér a exteriér. V tomto priestore sa ukazuje to pravé umenie nábytku, ktorý dokáže prepojiť dva svety a vytvoriť jedinečnú harmóniu. Sme ohromení, ako nábytok vytvára jedinečný priestor, ktorý pripomína prechádzku po prírode.
Posledný priestor, ktorý návštevníkov uvádza na cestu späť, je vonkajšia aréna, ktorá prináša príležitosť užiť si zážitok z prírody a slnka. Tu môžete relaxovať a vychutnať si jedinečnú atmosféru plnú estetiky a harmónie.
Pedrali s nadšením oslavuje svoje 60. výročie a predstavuje svetu svoje najnovšie kolekcie. Je to skutočná cesta späť k prírode, kde sa môžete ponořiť do atmosféry krásy a inovácie, ktorú ponúka tento taliansky výrobca nábytku. #pedralibacktonature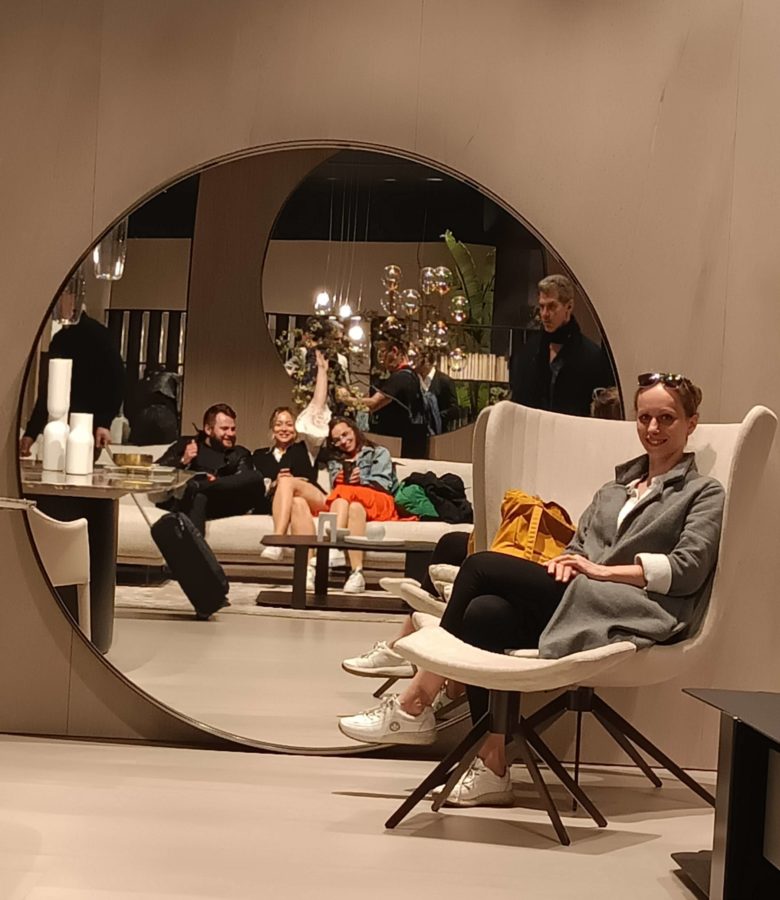 Lúčime sa s Vami najnovším katalógom noviniek PEDRALI. – KATALÓG NOVINIEK PEDRALI 2023 #pedralibacktonature
Team Inspire Design
#inšpirujtesasnami #pedrali #backtonature